Posted By thestatedtruth.com on June 15, 2011
The gap between spending and revenues has never been larger!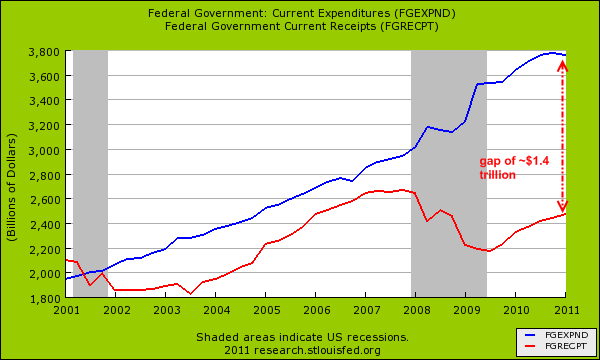 The American consumer is tapped.  Just look at the outstanding debt count:
-over $10 trillion in mortgage debt

-$1 trillion in student loan debt

-over $750 billion in credit card debt
We also have billions more in automotive debt.  This is simply unsustainable and we reached the apex reflected in our earlier chart where household debt equaled GDP at a near perfect one ratio. This sacrifice has come at the expense of the middle class since the top 1 percent have actually seen significant wealth gains over the last few decades.
For more: www.mybudget360.com